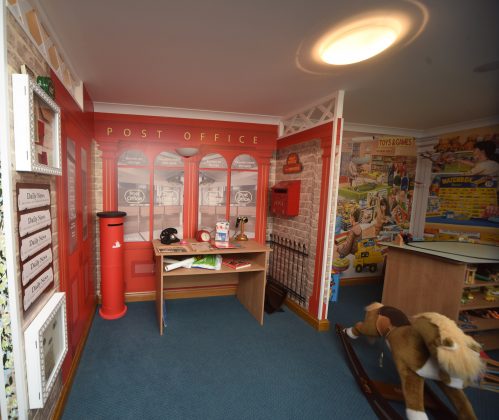 AN ARTICLE FROM "SWINDON LINK MAGAZINE" – NOVEMBER 2017
23-02-18
As part of an exciting new venture, The Orchid Care Home will be unveiling a brand new dementia suite next month.
The renovated lounge includes a cafe, post office, toy room and laundry room for residents to use at their leisure.
The idea comes from Care Home Manager Dawn Drew, who's taken inspiration from previous homes she's worked in, as well as the Pearl programme.
Dawn has been implementing many changes to Orchid Care including themed murals along the corridoors, memory boxes, demntia muffs, and a pyjama dress code for the night staff.
The pyjama initiative has become a permanent fixture since being trialled six months ago. The idea behind the scheme is so that should residents awake during the night the night staffs' attires signifies what time of day it is, which some residents with dementia can often struggle with. This also proactively contributes to a more comforting bedtime routine. Activities Coordinator, Beverley Head, said that it creates a much more relaxed atmosphere for both the residents and the staff.
Dawn explains how all the new touches allow staff to connect with the residents on a more personal level, as well as being able to divert residents' attention should they become restless by concentrating on an activity which stiumlates their mind.
Beverley commented: "Orchid really doesn't feel like a care home." And it is apparent why.
Much thought and research has gone into each aspect of the home, especially its new suite, to make residents feel as homely as possible. The murals, hand-painted by Rosetta Lorusso, provide a unique feel which echoes the atmosphere within the home itself.
The suite, put together by handyman Melvin, also includes a turn table, train set, and memorablia such as telegrams framed in the post office. Orchid Care Home is also welcoming donations of toys from the 1950s to 1970s to help build their collection for residents to enjoy.
The suite will be opened officially by Dr Simon Manchip, Consultant in Old Age Psychiatry, December 1 for which the public are welcome to attend.
latest news