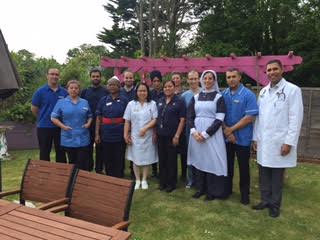 INTERNATIONAL NURSES DAY 2017
17-05-17
Birchy Hill honoured their Nurses throughout the National Nurses Week 2017.
They held a big celebration on Friday 12th May 2017 when in fact it was "International Nurses Day 2017".
All the Nurses wore different uniforms to show the changes over the time and were telling funny stories from their working life.
As the 12th May is Florence Nightingale's Birthday, we created some quiz questions around her life and work, and everybody joined into this fun activity.
Rodalyn, (our Head of Care), and Pia, (our Leisure and Lifestyle Organiser), recited two poems about nursing and made the audience think about how unfair this profession is often treated.
Afterwards everybody enjoyed the wonderful decorated cake that Sam (our Head Chef) created for this occasion.
latest news