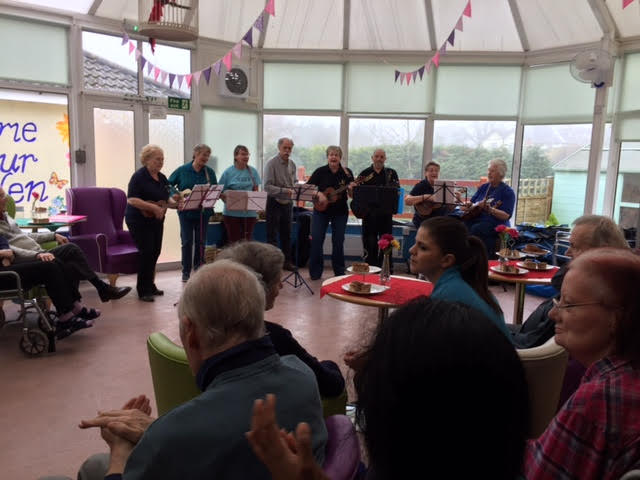 The Jumping Fleas or A Gift from Afar
24-03-17
The Residents at Birchy Hill today learned what Ukulele means in Hawaiian – Do you know? – because I didn't
Well Ukulele means "Jumping Flea"
Also did you know that the last Queen of the Kingdom of Hawaii "Liliuokalani" translated Ukulele as "Gift From Afar"
At Birchy Hill today we had the honor to welcome the Milton Ukulele Strummers Klub (MUSK), we enjoyed their unique tunes. The Residents loved the music! They were singing, clapping hands and dancing. Even the Residents in wheelchairs were moving to the entertaining rhythms.
Sadly we had to say goodbye to the Band after an hour of fun, but we are looking forward to welcoming them back very soon.
After a very happy afternoon we can now all rely on Queen Liliuokalani's translation, believing the Ukulele being "A Gift From Afar".
I would like to say Thank you to Milton Ukulele Strummers Klub (MUSK) on behalf of Angel Care PLC for coming today and entertaining our Residents, we look forward to you coming again soon
latest news