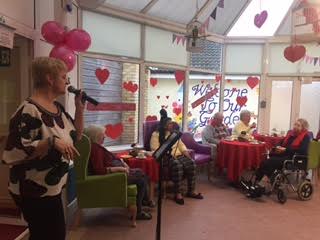 LOVE WAS IN THE AIR AT BIRCHY HILL
08-03-17
Every year on the 14th February people celebrate Valentine's Day by sending messages of love and affection to their partners, family and friends.
Couples send Valentine's Day cards and flowers. They spend special time together to honour their love for each other.
In Birchy Hill Valentine's was celebrated with a lovely Tea Dance, whilst the singer "Jane Parris" entertained us all with romantic music. Many Residents, Relatives and Staff joined in with the dance.
We invited 3 other Care Homes to share this afternoon with us, but unfortunately they couldn't make it.
Our Chef spoiled us with a yummy heart shaped cake and lots of mouthwatering cupcakes.
It was an afternoon to remember.
latest news